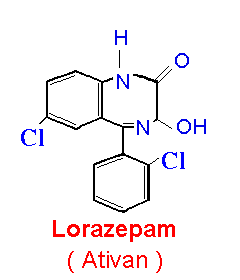 Lorazepam
( Alzapam, Ativan, Loraz, Lorazepam Intensol )
In Canada ( Apo-Lorazepam, Novo-Lorazepam, Nu-Loraz )
Interactions
Anticonvulsants.
Antidepressants ( Tricyclics ).
Antihistamines.
Central nervous system depressants.
Cimetidine.
Clozapine.
Disulfiram.
Erthromycins.
Fluoxetine.
Fluvoxamine.
Ketoconazole.
Levodopa.
Molindone.
Monoamine Oxidase Inhibitors ( MAO ).
Narcotics.
Nefazodone.
Oral contraceptives.
Lorazepam is used to relieve anxiety.


Lorazepam comes as a tablet and concentrate (liquid) to take by mouth. It usually is taken two or three times a day and may be taken with or without food. Follow the directions on your prescription label carefully, and ask your doctor or pharmacist to explain any part you do not understand. Take lorazepam exactly as directed.
Lorazepam concentrate (liquid) comes with a specially marked dropper for measuring the dose. Ask your pharmacist to show you how to use the dropper. Dilute the concentrate in 1 ounce or more of water, juice, or carbonated beverages just before taking it. It also may be mixed with applesauce or pudding just before taking the dose.
Lorazepam can be habit-forming. Do not take a larger dose, take it more often, or for a longer time than your doctor tells you to. Tolerance may develop with long-term or excessive use, making the drug less effective. Do not take lorazepam for more than 4 months or stop taking this medication without talking to your doctor. Stopping the drug suddenly can worsen your condition and cause withdrawal symptoms (anxiousness, sleeplessness, and irritability). Your doctor probably will decrease your dose gradually.

Lorazepam also is used to treat irritable bowel syndrome, epilepsy, insomnia, and nausea and vomiting from cancer treatment and to control agitation caused by alcohol withdrawal. Talk to your doctor about the possible risks of using this drug for your condition.

Before taking lorazepam, tell your doctor and pharmacist if you are allergic to lorazepam, alprazolam (Xanax), chlordiazepoxide (Librium, Librax), clonazepam (Klonopin), clorazepate (Tranxene), diazepam (Valium), estazolam (ProSom), flurazepam (Dalmane), oxazepam (Serax), prazepam (Centrax), temazepam (Restoril), triazolam (Halcion), or any other drugs.
tell your doctor and pharmacist what prescription and nonprescription medications you are taking, especially antihistamines; digoxin (Lanoxin); levodopa (Larodopa, Sinemet); medications for depression, seizures, pain, Parkinson's disease, asthma, colds, or allergies; muscle relaxants; oral contraceptives; probenecid (Benemid); rifampin (Rifadin); sedatives; sleeping pills; theophylline (Theo-Dur); tranquilizers; valproic acid (Depakene); and vitamins. These medications may add to the drowsiness caused by lorazepam.
tell your doctor if you have or have ever had glaucoma; seizures; or lung, heart, or liver disease.
tell your doctor if you are pregnant, plan to become pregnant, or are breast-feeding. If you become pregnant while taking lorazepam, call your doctor immediately.
if you are having surgery, including dental surgery, tell the doctor or dentist that you are taking lorazepam.
you should know that this drug may make you drowsy. Do not drive a car or operate machinery until you know how this drug affects you.
remember that alcohol can add to the drowsiness caused by this drug.
tell your doctor if you use tobacco products. Cigarette smoking may decrease the effectiveness of this drug.

If you take several doses per day and miss a dose, skip the missed dose and continue your regular dosing schedule. Do not take a double dose to make up for a missed one.
Side effects from lorazepam are common and include:
Changes in appetite.
Diarrhea.
Dizziness.
Dry mouth.
Drowsiness.
Tiredness.
Upset stomach.
Weakness.
Tell your doctor if any of these symptoms are severe or do not go away:
Blurred vision.
Changes in sex drive or ability.
Constipation.
Difficulty urinating.
Frequent urination.
Restlessness or excitement.
If you experience any of the following symptoms, call your doctor immediately:
Difficulty breathing or swallow.
Ingirregular heartbeat.persistent,
Fine tremor or inability to sit still.
Fever.
Shuffling walk
Severe skin rash.
Yellowing of the skin or eyes.
Storage.

Keep this medication in the container it came in, tightly closed, and out of reach of children. Store it at room temperature and away from excess heat and moisture (not in the bathroom). Throw away any medication that is outdated or no longer needed. Talk to your pharmacist about the proper disposal of your medication.
How it works:
Binds to GABA-A receptor sites.
[1] [2] Previous Page